The Neural Network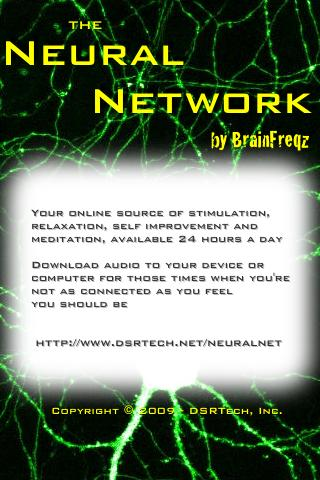 Welcome to The Neural Network! Never before have so many A
ffirmations, Meditations, Brainwave Entrainments (and so much more) been freely available to everyone seeking to enhance and improve their lives.
Within The Neural Network you'll find dozens and dozens of audio programs, all FREE for your enjoyment whenever and wherever you have an internet connection. If you prefer to listen to these programs at times when you're without an internet connection, or on a device that does not connect to the internet, most are currently available for sale via iTunes, and all will be available to purchase in the very near future.
Current offerings include Affirmations on many subjects including Weight Loss, Confidence and Motivation, to name just a few.
Our Guided Meditions include everything from Beginning Meditations for the inexperienced to very specific meditations for the more advanced including Chakra Meditations and meditations for particular topics such as Gratitude.
If you're a Brainwave Entrainment enthusiast we've got a wide selection from which to choose, all in varying time lengths. Start out with some of the more simple entrainments like Sleep Induction, or dive right in to some of the more adventurous such as Euphoria and Creative Focus.